Faces of Loss: Blessings in Disguise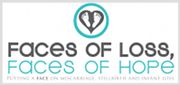 Faces of Loss started a monthly writing challenge and this months is: Blessing in Disguise. It's easy to focus on all the negative things that come from losing a baby, but have you discovered any 'blessings in disguise' throughout your journey? What can you find to be thankful for related to your loss? Although, I will never find the losses of Max or Ethan a blessing, many blessings have come from our losses. One of the two biggest blessings has been the strength of my marriage. When we first experienced our first loss we were told that nearly 50% of marriages that experience something this traumatic end up divorcing within the first year. I can't say it's been a cake walk but I can say we are on the other side of this and we stand together to love, support each other and not assign any blame to each other. It's really a great feeling to know you have someone there and that someone being your husband.
One of the other blessings that has come from our two losses is the outpouring of support from family and friends back home. I can not even begin to explain the amount of people we have had praying for us during the loss of Max and with the loss of Ethan. No one has been able to say they have been there sitting in the same bed on the same day as last year losing their second child but they did say they will pray for us. I don't how far in distance our families story traveled but I do know hundreds of people that were friends of friends of friends were out there praying and emailing our extended families.
I wish I could say that I had such a positive outpouring support from my friends here during the loss of Max but there wasn't, every one of my friendships here within the first month ended because of comments and rumors. With Ethan, I can say it was a positive experience when it came to my friends. Prior to even losing Ethan we had prayers, as those who have lost know how stressful and anxious it can be to make it to your delivery date.
Another blessing came from the least expected place, Labor and Delivery. I had originally met this person the weekend before being put on bed rest when I was carrying Emma. I didn't think she would play much more of a role in our lives but I was wrong. The day we lost Max I was provided a nurse to talk to me about the loss of my child, she was that nurse. She not only gave me a pamphlet about ectopic pregnancy but also a life long friendship. She helped guide me during the loss of my child and she was utterly excited for our newest addition. She was there with the loss of Max and coincidentally had a preplanned trip to Italy that landed on the same day we lost Ethan and made time to stop in and check on me, Jeremy and Emma.
The second biggest blessing that has come from our losses is that we have two perfect children that are in the care of God and our loved ones who have already passed. They are already there preparing for our arrival and will be there to greet us when we cross over to the other side. That knowledge alone has blessed me with an unfailing faith to have hope and to love harder because we will never know when our lives will be cut short.